News Releases & Statements
For inquiries, contact media@chfund.org or call 212.535.9400, ext. 254.
Children's Health Fund Applauds Review of Public Charge Rule
February 5, 2021 - On Tuesday, February 2, 2021, President Biden signed an executive order removing barriers to the legal immigration system, creating a task force to reunite children and families who were separated at the border, and beginning an immediate review of the "public charge" rule among other harmful regulatory actions taken by the previous administration. Children's Health Fund applauds President Biden's decision to begin reversing the public charge rule and therefore reducing its negative impact on children's health.
Children's Health Fund Statement on the Insurrection of January 6, 2021
January 7, 2021 - Children's Health Fund is, by legal status and design, a non-political organization. And yet it is   impossible for me to avoid calling out the horror of partisan politics and the white supremacy that were on display during the events that unfolded on January 6, 2021.
The racism and social inequities that underlie these actions existed before the current administration came into power, but the disregard for laws and dismissal of our system of government that converged yesterday were beyond the pale.
How the insurgents were treated speaks volumes about the two standards of justice in this country. And while it was on display yesterday for the world to see, for people of color here in the US, these inequities and double standards are a part of their lives every day.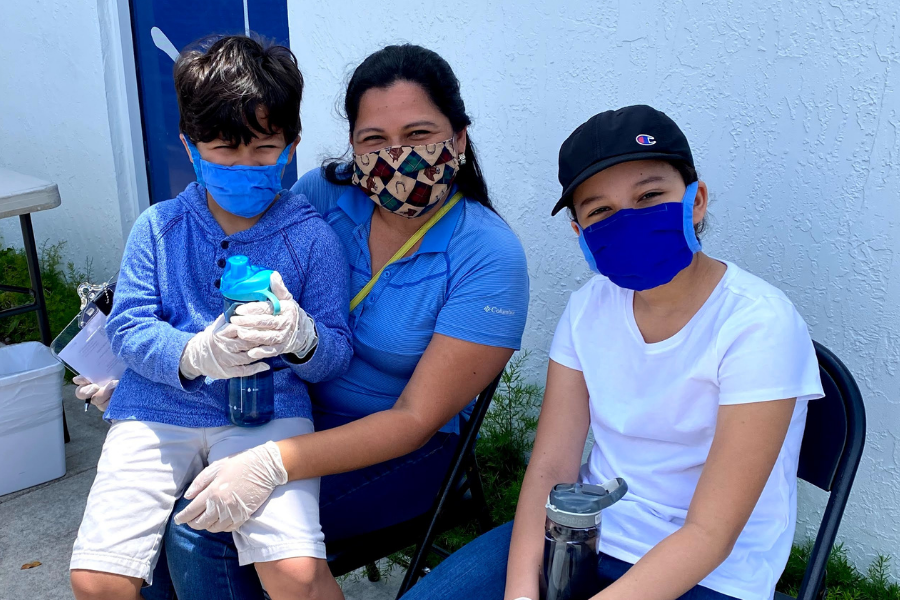 Our Statement on Issues Essential to Child Health Equity During the Pandemic and Beyond
Oct 30, 2020 - At no other time has the health of all American's been so threatened in our country due to COVID-19. However, it's undeniable that the worst impact of the pandemic has been on communities of color, marginalized communities that urgently need focused attention on health equity.
It's abundantly clear that health inequities have been exacerbated by the disparate access to essential services in communities of color. At Children's Health Fund, mitigating the negative impact of these inequities is core to our work through the programs we foster and our advocacy. The COVID-19 pandemic has accelerated this work. 
Children's Health Fund Responds to Recent Racist Violence and Calls for Social Justice
June 4, 2020 - Children's Health Fund is outraged by the racist, anti-Black violence this last week and in recent months. The brutal murders of George Floyd, Breonna Taylor, and Ahmaud Arbery are compounded by the disproportionate deaths of Black Americans from COVID-19. These past months have thrown our country into mass mourning for the loss of so much life. We also understand that this trauma is not new for communities of color, and is rooted in the countless other Black lives lost to police violence and 400 years of systemic oppression.
This moment reveals that there is no place for neutrality, and that to protect the health of all children, we all must explicitly confront racism, white supremacy and anti-Blackness. We must take a stand and be part of the solution.
PepsiCo Foundation Donates $2 Million to for COVID-19 Screening, Testing, and Other Critical Services
Donation will contribute to the Children's Health Fund emergency response and recovery efforts in 21 communities
New York, NY (April 27, 2020) – As the U.S. continues to report record numbers of COVID-19 cases, healthcare facilities around the country are facing growing shortages of COVID-19 tests and personal protective equipment (PPE), leaving many communities without adequate screening and testing services and the medical equipment necessary to fight the pandemic. To increase access to critical testing and screening services, supplement existing PPE, and to support children and families who are facing economic challenges, lost learning, and overall insecurity as a result of the pandemic, Children's Health Fund (CHF), a non-profit that has worked for over 30 years to provide health care to underserved children and families, launched the COVID-19 Community Emergency Response and Recovery Fund.
Telehealth Services to Expand for Children in Rural North Carolina Schools
A $100,000 grant from the Baxter International Foundation will address barriers to healthcare in McDowell and Avery Counties
New York, March 2, 2020 - Children's Health Fund today announced funding from the Baxter International Foundation to expand telehealth services for children in North Carolina's rural McDowell and Avery Counties. The $100,000 grant will be administered by Children's Health Fund and enable the Center for Rural Health Innovation's Health-e-Schools program to provide access to telehealth services to nearly 10,000 pre-K through 12th grade students and school staff. This will expand access to healthcare in a region where students and their families face many challenges to high-quality care stemming from financial constraints, transportation barriers, and even a shortage of healthcare providers.
Statement: Block-Grant Funding For Medicaid Threatens The Healthcare For Millions Of Children
February 5, 2020 - Children's Health Fund strongly opposes the recent decision by the Centers for Medicare and Medicaid Services to begin accepting applications from states for Medicaid block grants. This decision will ultimately lead to cuts in Medicaid spending, threatening the healthcare coverage for millions of families and endangering the health and futures of countless children.
Statement: Children's Health Fund Opposes Supreme Court Ruling on Public Charge
January 29, 2020 - Children's Health Fund strongly opposes the Supreme Court's decision to allow the public charge rule to go into effect, and stands firmly with the families and children whose health and wellbeing will be harmed by this ruling. The public charge rule is financially and racially discriminatory against families seeking safety and security in the United States. This rule directly targets healthcare programs and could potentially negatively impact millions of children in America, including citizen children living in mixed-status families.
Statement: Children's Health Fund Strongly Opposes Proposed Changes to the Supplemental Nutrition Assistance Program (SNAP)
October 1, 2019 – As an organization committed to protecting the health and wellbeing of children, Children's Health Fund strongly opposes the administration's proposed rule to amend broad-based categorical eligibility in the Supplemental Nutrition Assistance Program (SNAP). This proposed rule would impair the health of children, cause more children in this country to go hungry, and threaten the wellbeing and stability of millions of families. 
Children's Health Fund is Proud to Support Congresswoman Nydia M. Velázquez's Mobile Health Clinics Act of 2019
Washington, DC, September 27, 2019 – "For over 30 years, Children's Health Fund has leveraged mobile health clinics as an irreplaceable tool to combat the healthcare access crisis for vulnerable populations in this country," said Dennis Walto, Chief Executive Officer at the Children's Health Fund. "Mobile health clinics supplement the healthcare safety net by effectively targeting its gaps: medically underserved populations and areas. From urban to rural communities, they can literally deliver healthcare services and reach children and families where they live, work, and play, breaking access barriers like transportation and provider workforce shortages along the way. By expanding funding for mobile clinics, the proposed legislation will furnish communities and front-line health care providers with the tools they need to reach the last mile of care for children and families across the country. We thank Representative Nydia M. Velázquez for prioritizing the health and wellbeing of children with this proposed legislation, and our fellow co-sponsors for strengthening this effort."
A page from the Office of Inspector General report on widespread overcrowded and squalid conditions at migrant centers along the southern border. SOURCE: "Squalid Conditions at Border Detention Centers, Government Report Finds", The New York Times, July 2, 2019.
Children's Health Fund Condemns Administrative Efforts to Dismantle the Flores Settlement Agreement
August 22, 2019 - The Flores Settlement Agreement, a court settlement from 1997 in response to unsafe conditions and indefinite detention of migrant children seeking safe haven, is instrumental to safeguarding some of the most vulnerable children in our society. Any changes to it has the potential to negatively impact the health and wellbeing of children.
Statement: Children's Health Fund Opposes Punitive Public Charge Final Rule
August 14, 2019 - As an organization committed to ensuring access to high quality healthcare for ALL children in America, Children's Health Fund strongly opposes the public charge final rule issued by the Department of Homeland Security (DHS). The final rule is yet another example of this administration's intent to change the war on poverty to a war on the poor.
Children's Health Fund Launches New Mobile Clinic to Serve Homeless Children and Families in New York City
The mobile clinic will enable the Children's Health Fund to provide healthcare to hundreds more children and families each year
New York City, July 12, 2019 – Today, the Children's Health Fund (CHF) announced a new mobile clinic which will travel weekly to shelter sites across the city and provide homeless families access to comprehensive, continuous medical and integrated behavioral healthcare, in addition to mental health screenings. The mobile clinics are technology-enriched to provide immediate access to electronic health records and the most advanced care possible.
RENOWNED ATHLETES HONORED AS CHAMPIONS FOR CHILDREN AT CHILDREN'S HEALTH FUND 2019 ANNUAL BENEFIT
New York, June 7, 2019--The stars were shining on June 5, when legends in sports gathered with advocates for children's healthcare in Manhattan. Children's Health Fund (CHF), a non-profit committed to ensuring access to high-quality healthcare to America's most disadvantaged children, held its annual benefit at Capitale. The event raised nearly $1 million to support these efforts across 26 programs in 16 states, D.C. and Puerto Rico.